Okay, there you are 3,500 feet above the floor of the canyon, red rock walls below you that go on forever and the Colorado River just a snaking line at the bottom. Suddenly, the walls shoot up around you, a California Condor flies by your window and minutes later, you're lunching in the middle of the Grand Canyon, drinking champagne.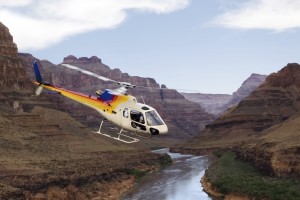 A helicopter tour can be an amazing way to see the Grand Canyon, particularly if you are pressed for time. Most groups, Papillon and Maverick being among the best, offer hotel pick-up and drop-off service and several packages ranging from a simple tour of the main Grand Canyon sights to an elaborate limousine pick up and drop off at your hotel, landing in the canyon for a champagne lunch followed by hiking and rafting down the Colorado River and capped off with a sunset flight out and over the lights of the Las Vegas strip.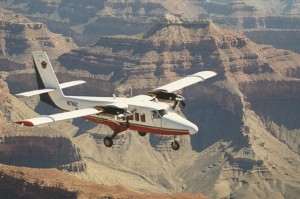 If you have even less time to spend or a smaller budget, an airplane tour can whisk you past the highlights on a one hour Grand Canyon Tours. It's affordable and everybody gets a window seat in these small, lightweight propeller planes. A bigger budget affords you a private plane and longer fly time with seating for up to 17 passengers and can be an impressive way to end corporate Arizona get-a-ways. As with helicopter and bus tours, air tours offer canned or live commentary on sights, history and nature along the way.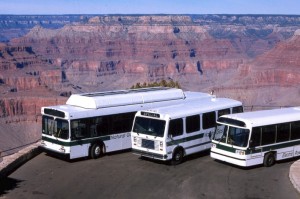 For the up close and personal, so-close-I-can-touch-it, budget friendly Grand Canyon Tours, you can't beat a bus. Tours leave regularly from Las Vegas and various Arizona locations to ride you and your group to canyon hot spots in comfort without someone missing out by offering to be the sacrificial driver. Most, if not all, bus tours allow for regular stops and sightseeing time outside the vehicle in each prime location. Many tours offer package deals allowing you to include a rafting tour or short helicopter ride for an additional fee.
Departure locations
Near South Rim: All the Grand Canyon tours are availble here, bus, hikes and bike rides. Just a few miles to the south is the Grand Canyon Airport, for helicopter flights, air tours and jaunts to Las Vegas. Las Vegas: With over 40 million visitors a year, a lot lot of people also want to see the Grand Canyon while in town. Mostly geared towards the day tripper, bus, helicopter and air tours are available from a number of sources. Phoenix: A major city and vacation destination,a number of tours are available from Phoenix. Flagstaff: The closest city to the Grand Canyon. At 70 miles, it is close enough for a day trip by rental car or bus. Los Angeles: Yes, tours leave from LA.Choose from various duration bus tours. Add in an optional sidetrip to Las Vegas or an air tour to complete your trip. Sedona: A great vacation destination itself, the Grand Canyon is too close to pass up if you have the time.
Grand Canyon Tour Deals
Save money on some of the best tours
Grand Canyon tours can be expensive. Even a 5% savings can be significant. Many tours offer dicounts if you book in advance on their websites. Expect to pay full price if you wait till the last minute or just walk-up to the ticket window. We are building a database of deals so you can find the best prices and save some money for souvenirs of your trip! Find geat prices at Grand Canyon Deals
Featured Tour
Canyon Dream Air and Land Tour
Save over $20
Once you've gambled at every Las Vegas casino and seen every show on The Strip, this tour would be the perfect choice for a different view of the American Southwest and a chance to take in the gorgeous environmental sights the region has to offer. This unforgettable travel experience will provide unbeatable views of the Grand Canyon on a private excursion customized just for you.