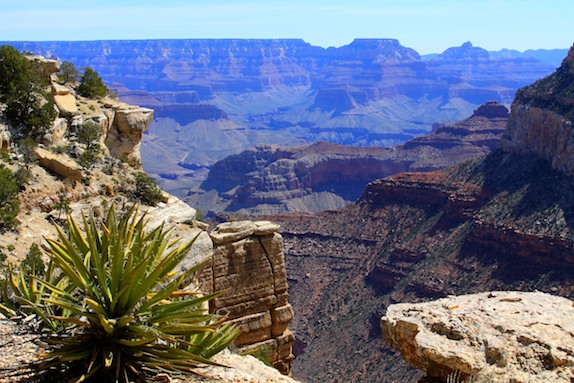 Because of its over 8000 feet of elevation change, the Grand Canyon is one of the most diversified ecologies found in any region this small. Plant life in particular changes dramatically from top to bottom as you descend from alpine forest to desert scrub to riparian forest. There are more than 1,500 known species of vascular plants, 167 species of fungi, 64 species of moss and 195 species of lichen in the Park. About a dozen of the plants in the Park are found nowhere else (endemic).
The Canyon walls are rich with plant life and the direction each slope faces plays a major role in contributing to the plants found within its walls. North-facing slopes getting marginal sunlight cultivate vegetation that is similar to those found in higher elevations. South-facing slopes receiving optimum sunlight give way to those typically found in the Sonoran Desert.
According to the National Park Service, natural seeps and springs trickling out of the canyon walls are home to 11% of all the plant species found in the Grand Canyon. These seeps and streams are important to the overall health of the Canyon as they provide water and food source to wildlife and visitors in an otherwise dry and arid ecosystem.
Walking into the Canyon you will pass through a changing plantscape. Each area within the park has a dominant plant community determined by the local geology and climate (precipitation and temperature variations) in that region.
The areas at elevations above 8,200 feet are dominated by spruce-fir forests where Englemann spruce, blue spruce, Douglas fir, white fir, aspen, and mountain ash make up the majority of trees. Some perennial grasses and herbaceous plants such as groundsels, yarrow, cinquefoil, lupines, sedges, and asters make for some colorful blooms at various times of year. Mountain meadows of grass and wildflowers can be found in small patches along the North Rim.
Varied Ecosystems at Descending Elevations Provide Interesting Landscape
At the high elevations on the North and South Rims, Ponderosa Pine forest is dominant. These forests also host Douglas Firs and Blue Spruce. Deciduous trees like oak, locust and elderberry are interspersed among the firs and spruce trees.
As they descend, hikers walk into a more sparsely vegetated area dominated by pinyon pine and Utah and one seed juniper. Other plants found in this region include sagebrush, snakeweed, Mormon tea, Utah agave, banana and narrowleaf yucca, snakeweed, winterfat, Indian ricegrass, dropseed, and needlegrass.
Further down, still in a dry region just above the river edge, hikers will find themselves in a desertscape of succulents and scrub brush. This elevation looks like the typical North American desert with ocotillo, mesquite, creosote bush, saltbush, and sagebrush widely spaced.
At river's edge, however, trees spring up again. Willow, mesquite, acacia, and tamarisk are all common here. If you're lucky, you'll find the odd orchid or perhaps a white-flowering redbud tree taking advantage of the abundant water.
Sahara mustard, an invasive exotic from North Africa, has become a threat to the parks native vegetation. Volunteers have been working with Park personnel to control and eradicate this species. Volunteers have also been enlisted to collect seeds and help propagate native species to help maintain the natural diversity of the Park.
It is almost impossible to find another place on earth where you can experience such diversity in a matter of hours. The Grand Canyon's changes in elevation and annual precipitation have made it incredibly unique and truly beautiful in its variety.