If it's a bed you want, the South Rim's Grand Canyon Village offers 1,000 of them in five lodges along with restaurants and other comforts. The North Rim by contrast is difficult to get to and by virtue of the fact, much less frequented. Come ready to camp! The North Rim does not offer the amenities of the South. With only one lodge serving guests, rooms are booked months in advance.
Five lodges occupy the South Rim of the Grand Canyon offering a wide range of rooms from the most basic four-walls-and-a-bed to a suite with private balcony and sweeping views. They range in price from affordable to not-so-affordable, but if your pocketbook doesn't mind, treat yourself to a room with a view. It's a stunner
If getting back to nature doesn't mean abandoning your blog or your cell phone, Tusayan may be the perfect solution. Just a mile outside the South Rim entrance, you can choose from hotels, motels and RV parks ready to cater to your twenty-first century needs without sacrificing location.
For the budget conscious who don't mind a bit of a drive or those splitting time between the Grand Canyon and Phoenix, Williams, AZ, only an hour's drive from the South Rim entrance, may be the perfect solution. Affordable, traditional hotel and motel lodging includes familiar favorites like a Best Western, Holiday Inn and Super 8.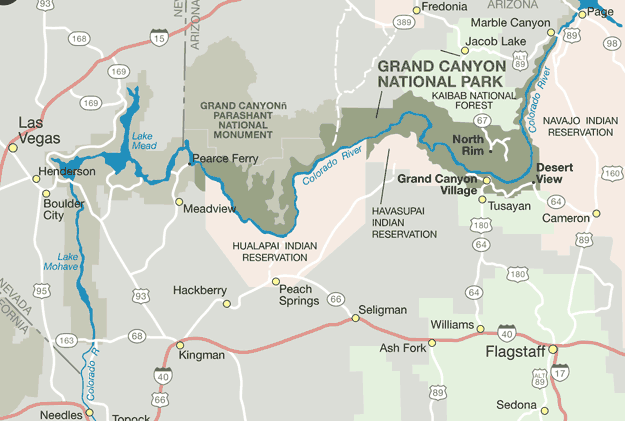 While it is great to stay "Rim-side" in the park, many lower priced Grand Canyon Hotels are very close to the park. Tusayan, Williams and In-the-park lodging are featured here but don't overlook Flagstaff or even Las Vegas as lodging option.
Featured South Rim Hotel
El Tovar is a large hotel built twenty feet from the very edge of the south rim of the Grand Canyon. The building's foundation is rubble masonry and concrete. The superstructure is of wood frame construction. The first floor is sheathed with log slab siding complete with finely-honed corner notching that gives the appearance of log construction. The upper stories have rough weatherboards. Log-slab moldings surround the windows on the first floor; those on the upper stories have heavy, milled moldings.
Featured Williams Hotel
Grand Canyon Railway Hotel has a health club, an indoor pool, a spa tub, and a fitness facility. Business amenities include meeting rooms for small groups and audio-visual equipment. Grand Canyon Railway Hotel has a restaurant, a bar/lounge, and a coffee shop/café. Event facilities include conference rooms. Guest parking is complimentary.