Opened just a few years ago, Drury Inn & Suites has quickly made a name for its self in Northern Arizona as a beautiful property operating under green, earth-friendly policies. Some of these features include the use of solar panels and recycled water systems. In fact, Drury Inn & Suites was Arizona's first LEED certified hotel for its commitment to sustainability, awarded through the United States Green Building Council.
Located on Northern Arizona University's beautiful, mountain campus, Drury Inn & Suites offers guests a stay within very close proximity to downtown, Snowbowl and other popular destinations.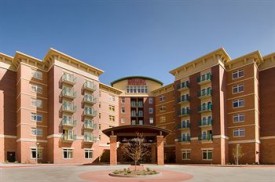 Many guests appreciate the hotel's "Kickback" happy hour at 5:30 p.m. featuring hot snacks and beverages. From 3-10 p.m. each day, free popcorn and soda can be found in the lobby, making big and little kids alike squeal with delight. Free breakfast is also included, featuring eggs, sausage and waffles.
This is a smoke-free hotel.
Amenities
Complimentary hot breakfast
"Kickback" happy hour
Free wireless internet access
34-hour fitness center
Indoor pool and whirlpool
Covered parking
Business center
Flat screen TV's
In-room coffee service
Microwave
Refrigerator
Premium movie channels
The Down Low/411
Most of the guests who recently stayed at Drury Inn & Suites Flagstaff had a very positive experience. Those who book rooms here aren't necessarily concerned with staying in a budget-friendly property, as it can get a bit pricey. However, many appreciate the clean, updated rooms and modern décor. Others simply liked being able to have a cold beer and a hot dog at the "Kickback" happy hour. Word to the wise: This offering is not meant as a meal or to replace dinner. It's a happy hour of sorts. Also, if you want to take advantage of "Kickback," get there early. The place is popular and food can run out quickly.
Who is it good for?
Drury Inn & Suites will work for just about any traveler, but because of its offerings of evening cocktails and snacks, popcorn and soda in the evenings and free breakfast, travelers with kids will do especially well here. The suites offer families more space to spread out and relax in their rooms and downtown being so close to the hotel makes walking more feasible. Drury Inn & Suites is also great for couples – many chose to make Drury Inn their honeymoon suite while couples helping their college-bound children settle into college find its location on campus especially appealing.
For those traveling during the winter months, it might behoove you to consider the covered, garage parking this hotel offers – because of the amount of snow Flagstaff can get, parking in a garage like Drury's means you won't have to shovel the snow off of your vehicle.