Proximity and affordability is the name of the game here at the Best Western Pony Solider Inn & Suites. Conveniently located just off Interstate-40 in Flagstaff and five miles or less from some of Flagstaff's most popular destinations, the Best Western Pony Solider Inn & Suites provides guests with clean, basic accommodations while allowing them to adhere to their family travel budget.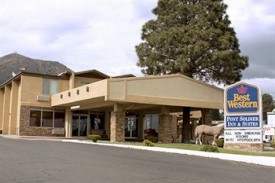 Staying here can be extra-convenient for those wishing to pack a little extra sightseeing into their Grand Canyon Trip. This property is five miles or so away from Northern Arizona University, downtown Flagstaff, Lowell Observatory and Walnut Canyon National Monument. While here, guests can relax in the hotel's hot tub and swimming pool and have access to a complimentary continental breakfast and free high speed internet.
This property is 100% smoke-free. Though it is pet-friendly there is a charge when booking your stay with your furry companion.
Amenities
Indoor heated pool
Hot tub
Free continental breakfast
Free high speed internet access
Complimentary newspaper
On-site gift shop
Business services such as fax and copier access
Cable television with HBO
A variety of accommodations for handicap visitors
Iron/ironing board
Coffee and tea maker
The Down Low/411
While certainly conveniently located, the hotel is right across the street from the railroad station, though it doesn't seem to pose much of a problem with visitors. There is a train horn noise ordinance in place making Flagstaff an official "Quiet Zone," making this issue virtually null and void.
Because the indoor pool and hot tub are located in a building separate from the main hotel, if you are wishing to visit the pool in the wintertime, be prepared to bundle up. It's only steps away from main part of the hotel, of course, but many have underestimated how chilly it can be getting to the pool in little more than a bathing suit and towel.
Who is it good for?
For those travelling on a budget and wanting to fit in a little Flagstaff area sightseeing, the Best Western Pony Solider Inn & Suites is a great place to stay. It's proximity to the great restaurants and bars downtown, in addition to destinations such as Lowell Observatory means making this your "home base" an ideal option. And, because of the suites available to reserve, anyone travelling in groups or with larger families will do especially well here.