Many will say the experience of staying inside Grand Canyon National Park, where the natural beauty and geological wonder right outside your door is unmatched. The convenience and remarkable panoramic views appeal to thousands of visitors of the Grand Canyon making lodging at the South Rim a popular choice among tourists. After all, it is not possible to find a room closer to the dramatic flourish the Canyon has to offer unless you plan on strapping on your hiking boots and pitching a tent.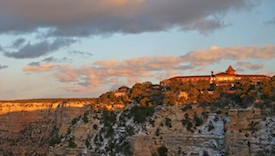 It is also a unique traveling experience. Not many of us get to go to the Grand Canyon to begin with and actually staying inside the boundaries of one of the Seven Wonders of the World is an adventure you can check off the 'ole bucket list and tell your friends about.
By staying at the South Rim of the Grand Canyon, guests are treated to truly picturesque views and peaceful surroundings. In addition to the sights, staying right on the South Rim can treat you to some unique tourist experiences as well. Mule tours leave directly outside of Bright Angel Lodge and trailheads can be found within feet of your door. Hiking, rafting, air and train tours are all found inside the park and staying in the middle of the action makes things all the more convenient and slightly more special.
Unique Lodging Amid an Unmatched Location
There are six hotels all within walking distance of the South Rim and are operated by Xanterra South Rim LLC. This lodging operating company seems truly committed to serving the Canyon while it accommodates guests and balances preservation. In fact, they are the only ones authorized by the National Park Service to run lodging inside the park and appear to take their stewardship seriously.
In general, lodging at the South Rim is fairly basic but can run between $80 and $400 per night depending on where you book, what conveniences you choose and how close you want to be to the Canyon. Remember, it's the spectacular views and in-park experience you are paying for here.
Children under the age of 16 who stay in the same room with a paying adult stay free at the South Rim hotels. All hotels will provide an authentic experience, some more so than others. It is certainly possible to book slightly more elaborate rooms with some above-and-beyond extravagances thrown in, but none of the accommodations at the South Rim is considered five-star.
On the whole, guests can expect clean rooms with televisions and friendly staff. Aside from the restaurant at El Tovar, do not expect elegant dining choices. Most hotels offer cafeteria style at best.
The South Rim is, undeniably, one of the most popular tourist spots in the Southwest and hotel rooms inside (as well as just outside) the park are in high demand so book early. Most accept reservations up to 13 months in advance. A particularly popular hotel, Bright Angel Lodge, tends to book at least a year out, so keep that in mind when you are planning your vacation to the Grand Canyon.
Find Grand Canyon National Park South Rim, AZ lodging at these top properties
El Tovar: Historical significance, upscale restaurant and stunning views make this hotel a "premier" choice in lodging at the South Rim.
Kachina Lodge: Proximity with a modern flare, this lodge is geared toward families offering double rooms and en suite bathrooms.
Thunderbird Lodge: 1960's style architecture, partial canyon views and steps from the Grand Canyon, Thunderbird Lodge is an ideal option for families.
Bright Angel Lodge: History buffs love this rustic, authentic property originally designed by Mary Coulter in the 1930's.
Yavapai Lodge: A large property set just outside the South Rim, Yavapai Lodge is just steps from Canyon Village Marketplace where visitors find food, laundromats and the post office. This can be a more affordable option to staying in lodging with canyon views but still be close enough to be within a half mile of the Rim.
Maswik Lodge: Motel offers accommodations for those preferring a more "rustic" stay as well as motel-style rooms – all within walking distance of the Canyon.