18 miles wide and 1 mile deep with 277 miles of river running through it, Grand Canyon National Park is a wonder of nature millions of people come to admire each year. Whether it's your first time or your tenth, it's impossible to ignore the raw beauty before you in the face of one of the earth's greatest creations. Since earning it's protection as a National Park in 1919, the Grand Canyon has been drawing people who wish see it, climb it, study it and, of course, conquer the great Colorado River.  Whether you have a day or a month to spend there, you're sure to be happy you made the time as Mother Nature certainly doesn't disappoint.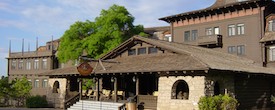 There is no lack of lodging in and around the Grand Canyon. You have only to name your budget to find several to suit your needs. But early booking can be imperative if you're looking at a coveted spot. Check out our Hotels and Lodging page for tips on where to stay and links to hotels, motels, inns and lodges in and around the Grand Canyon.
Grand Canyon Tours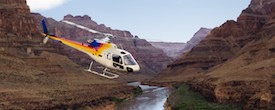 Like to imagine yourself descending the canyon on a donkey? Or how about in a helicopter? Or on a raft challenging the rapids of the Colorado River? Find out more about the kinds of Grand Canyon tours available, read reviews, compare prices and find out how to book the one you want.
Grand Canyon Vacations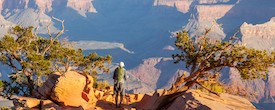 Whether you're blowing the bank or hoarding pennies, you're likely to feel overwhelmed by choices and pressed for time with so much to see. We can help you prioritize. Find out what not to miss and how to make the most of your time and money when visiting the Grand Canyon.