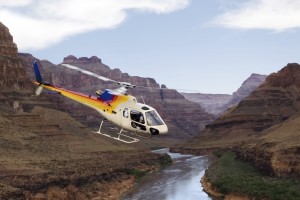 A helicopter tour of the Grand Canyon can add be a real highlight. Flying over the canyon gives you a rare perspective not found on the ground. But added to that is the unique ability of a helicopter to descend straight down. With that ability, you have the chance to see up close and personal the stratification in the rock depicting six million years of history, wildlife rarely seen on foot or from a vehicle, and unlike any other mode of transportation, you can land in the canyon and have time at or near the bottom without having the arduous task of getting there on foot.
Helicopters hold fewer people than airplanes flying over the canyon so if it's intimacy you're looking for, this may be the way to go. They also have the advantage of being able to land in the canyon. Locations vary so be sure you've chosen a company that will put you where you most want to be.
A few tour companies have unique packages available but most offer tours all but identical to each other. Choosing really comes down to style, price and availability. Although it can be pricey, these tours are popular so book early to ensure the best rate. Confirm your booking at least once if not twice depending upon how far in advance you schedule it and certainly once a day or two before to ensure there are no misunderstandings. These companies deal with thousands of tourists a year. You don't want to be lost in the shuffle.
As with any flight, these craft are subject to weather. Read the fine print closely and be sure you understand the terms under which you may be able to reschedule due to bad weather or receive a refund for a trip not taken.
Photo Courtesy of Papillon Grand Canyon Tours
Grand Canyon Outfitters that offer Helicopter Tours
Papillon Grand Canyon Tours
Best known for it's air tours but can provide combination packages to enhance your overall experience and maximize your time in the Grand Canyon.
Maverick Helicopter Tours
Helicopters are specially designed to maximize the sight-seeing experience with a variety of tour packages to fit both budget and schedule.
Grand Canyon Helicopter Tours
The company prides itself on first-class treatment for all its patrons and offers some of the more affordable and time-sensitive flights.
Grand Canyon Coaches
Provides a variety of combination coach tours by partnering with other respected tour companies.
Grand Canyon Airlines
This company is the originator of fixed wing flights over the canyon and offers a range of tours and packages to accommodate all budgets.
Scenic Airline Tours
Scenic Airlines offers a range of tours to satisfy both budget and time offering both short flights over the canyon as well as full day excursions over, in and out again.
Airbridge Tours
Offers guided, luxury coach tours on deluxe double-decker buses to afford each guest a prime view of the Grand Canyon.
Get America Tours
Company offers combination tours that include other major parks and destinations to maximize your experience of the American West.
Great West Adventure Company
Offers a variety of tours to the Grand Canyon from Arizona locations inclusive of some unique sights and features. Check out the Historic Railway Tour for a real Old-West experience!
Heli USA Airways
Offers some unique combination tours that provide a taste of history and Old West entertainment.
Open Road Tours
This company caters to the adventurer who wants to maximize their experience the American West and learn along the way.
Pink Jeep Tours
This is a family friendly, adventuresome way to visit some of the quieter, unique spots in the Grand Canyon and have an unobstructed, up-close experience.
Sundance Helicopters
Offers a range of tours to suit your sight-seeing style. Fly, float or drive your way to and through the Grand Canyon.
Vision Airlines
Offers a variety of moderately priced round-trip Grand Canyon day tours leaving from Las Vegas, including on exclusive tour to Bar Ten Ranch on the North Rim.
Grand Canyon West
Tour the West Rim's Eagle Point Reservation, Guano Point and the Hualapai Reservation with the tribe as your guide.
OARS Grand Canyon Adventures
This company offers the unique experience of river running in wooden Dory boats. Tours range in length from 4-18 days.
Western River Expeditions
This company provides river rafting in style with cot camping, prepared meals and roomy tents.
Four Seasons Guides
This company provides a wide range of tours at varying levels led by knowledgeable staff. Camping and rafting are part of some tours.
Sightseeing Tours Unlimited
Combination packages inclusive of coach, air and helicopter tours from Las Vegas.