The biggest draws to the Highland Country Inn is its affordability and its proximity to area attractions. Located just across the street from Northern Arizona University, this property is within short walking distance of the train station and downtown Flagstaff and within a short drive to Lowell Observatory, Snowbowl and Meteor Crater.
Rooms come with either a king size bed or two queen size beds. Very basic accommodations are offered here. Remember, you are largely paying for its location, not for luxury. Upon request, group travelers may appreciate the availability of connecting rooms. Other amenities such as non-smoking rooms, refrigerators and microwaves are available upon request.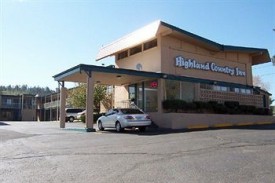 A continental breakfast is not offered. Unlike a lot of Flagstaff hotels/motels, Highland Country Inn does not provide its guests with in-room coffee makers. Coffee is usually available in the lobby, however, plenty of great coffee can be found at any one of Flagstaff's locally owned coffee shops. Try Late for the Train or Campus Coffee.
There is not a swimming pool on-site, but if you are planning on getting up early to get to the Grand Canyon, or on your way home, this is likely not a big deal. Please note this is not a pet-friendly motel.
Amenities
Coin operated laundry room
Free high speed wireless internet
Hair dryers
Television with free HBO
The Down Low/411
By and large, folks who have stayed here recently say they felt they got good value for the money. The property is clean and the staff is friendly and helpful with recommendations to local restaurants, bars and attractions. Noise complaints are quite minimal, especially for it being located off a busy street, but with the actual guest rooms located on the back of the property, this seemed to be a non-issue for guests.
Remembering this is a budget-friendly motel is key when you are lugging your suitcase up the stairs to a second floor room. Renovations appear to be underway so management knows they have an aging property but are making strides in keeping it up-to-date and appealing to tourists.
Who is it good for?
This is a great option for the budget friendly traveler to stay the night before heading up the Grand Canyon. Clean and accommodating, this centrally-located Flagstaff motel will be easy on your wallet while giving you a decent place to rest before heading up to your Grand Canyon adventure.