For those considering making Flagstaff their "home base" during their trip to the Grand Canyon, many find looking for lodging on the other side of Flagstaff rewards them with a slightly different flavor of Northern Arizona. Located further into Flag, yet still close to downtown, Northern Arizona University and many shops and restaurants, the Radisson Woodlands Hotel gives guests a taste of the "Old Route 66." Decades ago, Route 66 was known as one of the most famous roads in the U.S that ran from Illinois and ended in California. While much of that road is long gone or forgotten, it is still celebrated in Flagstaff.
While this property is further into Flagstaff and away from Interstate 17, it is located on the way to Sunset Crater National Monument, a popular tourist destination and not far from downtown.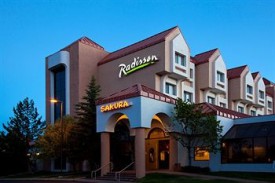 The Radisson Woodlands Hotel Flagstaff provides guests with a more upscale hotel experience in the area without being too far off the mark for affordability. Rooms are intricately decorated and the lobby is warm and welcoming. This is another property where a roaring fireplace in the wintertime offers respite from the falling snow and freezing temperatures outside.
Two restaurants are located on-site. The Woodlands Café, provides a more casual dining experience while the Sakura Restaurant, serves up fresh sushi and Teppan-style cooking.
Rooms at the Radisson are defined as "Standard," "Sleep Number Bed Guest Rooms" and "Parlor Suites." Each room comes equipped with large, 37" flat screen televisions with satellite channel service as well as free internet and granite countertops.
For an upgrade, guests can reserve rooms with Sleep Number beds, allowing guests the opportunity of adjusting the firmness of their mattresses to achieve their desired level of comfort. These rooms also come with upgraded linens, down comforters and pillows. To further upgrade to a "Parlor Suite," guests will be treated to two flat screen televisions in their room, along with a microwave, mini-refrigerator and king sized Sleep Number bed.
Amenities
Grand Ballroom
Meeting rooms
Two onsite dining rooms
Sleep Number beds (in designated rooms only )
37" high definition televisions
Free, high speed internet
Coffeemaker
Iron/ironing board
Desk
Room service
The Down Low/411
This property is a very popular place to stay and gets particularly busy around the holidays or three-day weekends. Be sure to book early and specify what sort of room you require. The hotel charges a pet-fee, so be sure to ask the staff about this before you book.
Who is it good for?
The Radisson Woodlands is a well-maintained property, offering an upscale hotel experience in Flagstaff. If you aren't overly concerned about the higher rates, this is a fantastic option that will likely not disappoint. Because of its upgraded amenities and Sleep Number beds, guests who have spent several (or more) days hiking the Grand Canyon have found this to be a perfect place to relax and unwind after a grueling hike or trip down the Colorado River.