Part of the InnSuites Boutique hotel chain, the Hotel Aspen provides the kind of accommodations and amenities you might expect from a chain, in addition to being located on the historic Route 66.
The property, on the whole, is well kept but could use a little updating. A quaint, cozy lobby greets guests and friendly staff is on hand to assist guests with questions, restaurant recommendations and room arrangements.
Rooms are spacious, bright and clean and come with the option of having "Cloud 9 Pillowtop Beds with Deluxe Bedding." Free wireless high speed internet is available in all rooms.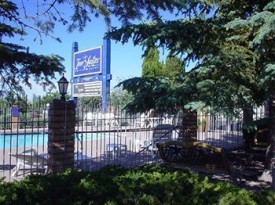 In addition to their standard guest rooms, the Hotel Aspen offers guests a choice of booking a Studio, Two-Bedroom Executive/Family Suite or their Presidential Suite. The Presidential Suite has a Jacuzzi inside.
A restaurant, PJ's Historic Route 66 Café features a variety of breakfast items at their hot breakfast buffet (we hear the waffles are quite tasty) and a free afternoon happy hour.
An outdoor swimming pool with lounge chairs surrounded by pine trees provide guests with a scenic place to relax.
Amenities
Onsite restaurant
Varied room options – standard to suite
Outdoor swimming pool
Free high speed wireless internet
Televisions and cable channels
The Down Low/411
Reviews are mixed, but tend to settle around the positive range. Most remark the property is a bit dated, but that the staff is friendly and the breakfast was a homerun. Be aware, several recent guests have had trouble operating the Jacuzzi, so if you book the Presidential Suite, be sure it is in working order and you have one of the staff show you how to operate it.
Who is it good for?
A good number of visitors of this hotel are couples on their way to the Grand Canyon. Most liked the location of the hotel being pretty close to downtown, the complimentary happy hour and the option of upgraded bedding. With a hot breakfast in their bellies, many felt ready to check out and start their drive to their final destination – the Grand Canyon.