Just two miles away from downtown Flagstaff, and minutes from Interstate 40, the Days Hotel is a great option for the visitor eager to take in a few sights and then be on their merry way. As part of the Days Hotel chain, the Days Hotel Flagstaff is one of the more affordable properties in town offering low rates for decent accommodations.
One of the most popular features of the Days Hotel Flagstaff is its heated indoor pool. There aren't many hotel/motel properties in Flagstaff that offer a heated indoor pool, so for those looking to relax after a long day at the Grand Canyon, this is a treat.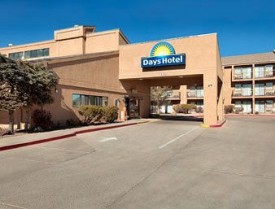 With a lounge and a restaurant on site, guests won't have to go far for their next meal. Country Host Restaurant dishes up breakfast, lunch and dinner and the Brix Restaurant & Wine Bar serves up cold beverages and wine.
Guest rooms include amenities like microwaves and refrigerators. For those traveling within a group or family, suites are available to reserve upon request. This is a non-smoking hotel.
Amenities
On-site fitness center
Indoor heated swimming pool
Hot tub
Handicapped-accessible accommodations
Free Wi-Fi
Restaurant
Lounge
Pet-friendly
The Down Low/411
For a budget hotel, this property gets some pretty positive reviews, which goes far in saying the Days Hotel Flagstaff offers great value for the money. Guests seem to enjoy the dining options at the restaurant and lounge and say the staff is friendly and helpful. This hotel recently underwent a renovation, so décor and overall appearance and functionality of the property seem to be pretty up to date.
There are quite a few motel/hotels in Flagstaff that have two-story buildings but no elevator – this is not the case here and can certainly come in handy in the middle of a snow storm or in the icy conditions Flagstaff is prone to get from time to time.
Who is it good for?
This hotel is good for just about anyone with budget in mind. Families, single travelers, those traveling in groups will do well at the Days Hotel Flagstaff.