The Hilton Garden Inn & Suites is conveniently located off I-17 and is just two miles from downtown Flagstaff. Families find its proximity appealing as well as its pricing. With free high speed internet access, 24-hour business center and meeting room, business travelers appreciate this property as well.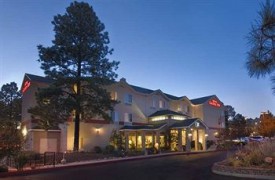 An onsite restaurant, The Great American Grill, provides guests with breakfast and dinner items, though many guests also enjoy the convenience of the Coco's Bakery and Restaurant next door to the hotel. They will even deliver room service right to your hotel room!
A heated indoor pool and fitness center mean guests can continue their workout regimen even while they are away from home. Within the hotel is the "Pavilion Pantry Market," a small convenience store of sorts.
Amenities
Business Center
Meeting rooms with audio/visual equipment to rent
Multi-lingual staff
On-site convenience store
Fitness center
Pool
Free Wi-Fi
Free continental breakfast
32" TV's
Microwave
Coffee maker
Refrigerator
Iron/Ironing board
Complimentary USA Today
The Down Low/411
The majority of recent travelers have had very positive things to say about the Hilton Garden Inn, especially as it relates to the hotel's cleanliness and staff. Many noticed how quiet the hotel was – a welcome remark given that is a chief complaint at many other properties. High marks were also given to the breakfast provided at the hotel. Management seems particularly tuned-in to reviews and feedback it gets online and in person and has made visible efforts to take people's experiences (good or bad) into account and adjust their practices accordingly.
Be aware – the Hilton Garden Inn welcomes smokers and non-smokers alike. Be sure to ask for a non-smoking room and don't be surprised if you encounter smokers in the common areas like the lobby, hallways or outside.
The price for the room is quite competitive and the fact it is so close to downtown Flagstaff, as well as a hop, skip and a jump away from the freeway that leads you directly to the Grand Canyon, the Hilton Garden Inn is a safe bet.
Who is it good for?
Very few properties in and around the Grand Canyon boast of having multi-lingual staff, but the Hilton Garden Inn & Suites does, so for travelers speaking a different language, this hotel should be made a consideration.
Because of its multiple business-friendly accommodations like the meeting rooms and A/V equipment rentals, business travelers will do particularly well here, though families will, too.