Lake Powell Resort is located at the Wahweap Marina in Page and can be considered to be smack-dab in the heart of the action at the popular location of Lake Powell.
In addition to its proximity to the lake, the views of the canyon walls and lake-front are almost enough to book this hotel without much hesitation. Most rooms appear to come with at least some sort of a view, while the premium rooms offer "postcard vistas" and patios or balconies. The resort offers "Traditional Rooms," "Marina View Rooms," "Lakeview Rooms" and "Spacious Suites."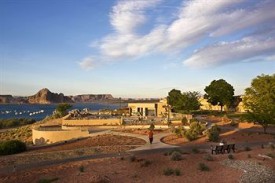 With a restaurant on-site, food is never far away and many guests say their meals at the Rainbow Room were decently priced and well-presented. The Rainbow Room, open during the peak season, offers a full menu of breakfast, lunch and dinner options.
Pets are allowed in the Traditional Rooms, but a $20.00 non-refundable deposit is required.
Amenities
On-site restaurant (open seasonally)
Pool with adjoining fire pit
Hot Tub
Spectacular views
The amenities offered at the Lake Powell Resort are largely determined by the type of room you choose to book. As one would expect, the nicer the room, the more amenities you'll get. For the most part, rooms come equipped with cable television, a mini refrigerator, coffee maker, hair dryer and alarm clock. In 2012, one of the members of the management team explained their plan of upgrading all of the rooms with LCD flat screen televisions. The resort's "Lakeview Rooms" come with and upgraded oversized patio/balcony and upgraded furnishings and the suites offer considerably more space and consist of connecting rooms.
The Down Low/411
Recent guests of the Lake Powell Resort cite a friendly, helpful staff who is very knowledgeable of the area and surrounding destinations. The overall aesthetics of the property itself could use a little updating, but a clean, comfortable place to stay is almost certainly guaranteed.
To get the most enjoyment out of your experience here, it's recommended you upgrade to a room with some sort of a view as the non-view rooms are dark and seem much smaller.
Who is it good for?
Families will benefit from staying at the Lake Powell Resort because of its suite-style rooms, but couples and singles will appreciate this property as well, especially if you choose to upgrade to a room with a view. All in all, with its location right on Wahweap Marina and its access to the natural scenery, this property seems second only to renting a houseboat.