This hotel property offers a Southwestern motif and pricing that won't break the travel budget. The Courtyard by Marriot Lake Powell is situated on the edge of the18-hole, Lake Powell National Championship Golf Course and just minutes from must-see destinations such as Antelope Canyon, Glen Canyon Dam and both Wahweap and Antelope Point marinas.
An on-site outdoor season swimming pool is a favorite among the kids and the adults can enjoy the whirlpool and fitness center. A gift shop is pretty well stocked with things travelers to the area desire – tchotchkies, snacks and sunblock. This property enlists a smoke-free policy.
For business travelers, 4,000 square feet of meeting space is available and up to four meeting rooms can be made available. The Arizona Ballroom is a popular go-to spot for business meetings and weddings.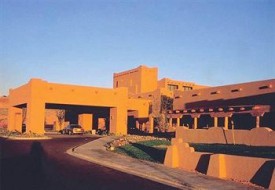 An onsite restaurant called, Peppers is available to guests. It is open for breakfast year-round and guests can order made-to-order omelets. Peppers is open for dinner from March – October. Here, guests can enjoy "American food with a Southwestern flair." A variety of chain restaurants and diners are open nearby and well within a spirited walk or short drive.
On the whole, recent guests have been complimentary of the helpful staff. Many say those working the desk are not overly friendly but know the area well and can answer their questions without hesitation.
Amenities
Complimentary internet access
On-site gift shop
Ice machine
In-room, well-lit work spaces with ergonomic chairs
Mini refrigerators in every room
Iron/ironing board sets
The Down Low/411
Some guests have been disappointed to learn the restaurant was only open for breakfast when they stayed at the hotel during the off-peak season, so know if you are going in the winter months, Peppers is only open for breakfast.
When people do research on hotel properties in Page, budget inevitably plays a big part of the decision. And rightly so. While the Courtyard by Marriot Lake Powell is not the cheapest option in the area, it is still very reasonably priced and guests who have stayed there say it is well worth spending a little extra money.
Who is it good for?
The Coutryard by Marriot Lake Powell is ideal for families and business travelers. Be sure to check out the sunrise on at least one morning during your stay as it is breathtaking peaking over Glen Canyon Dam – a sight you can surely take in from the Courtyard by Marriot Lake Powell.