One thing that seems to stand out about the Quality Inn Lake Powell is its promise to offer its guests views of the canyons and Colorado River from its room balconies and patios. All rooms on property have at least some sort of view, which makes a stay here all the more pleasant and serves as a reminder of the natural beauty that sits just outside your door.
The Quality Inn Lake Powell provides its guests with a free "deluxe hot breakfast," free high speed internet access and fairly spacious rooms. Business travelers appreciate having access to a copier and fax machine as well as banquet and meeting rooms and free shuttle service to and from the local airport. The seasonal outdoor swimming pool and picnic area provide sunbathers and swimmers with plenty of shade as there are a number of broad umbrellas and chairs to lay out in. This aspect alone will appeal to those traveling with young children.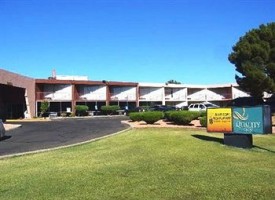 The "deluxe hot breakfast" is a step up from a continental in that it offers eggs, potatoes and pancakes. Meat costs extra.
Standard rooms come with amenities such coffee makers and hair dryers. An upgrade will also get you a microwave and refrigerator. This property is also pet-friendly, making a perfectly acceptable option if you are traveling with the family pet.
Amenities
Bus parking
Business center
On-site lounge/bar
Free continental breakfast
On-site gift shop
Pet-friendly
Seasonal outdoor swimming pool
Picnic area
Restaurant
Laundromat
Cable television
Iron/ironing board
Coffee maker
The Down Low/411
Recent visitors of this hotel complain about the hotel needing a renovation as the fixtures and some of the locks appear to be quite worn. Many remarked multiple times that the staff is friendly and quite helpful. This can go a long way in helping you navigate your way around town and making the most of your time here by visiting the sites in an accommodating fashion.
Knowing what you are booking before you get there is key, meaning, this is not a four diamond hotel, but you are not paying four diamond prices, either. As with any Quality Inn hotel, this one seems to represent the brand in offering basic yet clean accommodations.
Who is it good for?
Like other Quality Inn's across the country, this property should be considered for anyone traveling on a budget. The accommodations are basic, but saving a little extra cash on a room might help you pay for an additional day or adventure during your visit.