For those traveling with kids, conveniences like a playground, pool and picnic area are a welcome site at the Rodeway Inn Page. Desks, free high speed internet and access to a fax machine appeals to business travelers. Located within walking distance of area businesses, shopping centers and restaurants, and within close proximity to Antelope Canyon and within reasonable driving distance to the Grand Canyon, make this downtown Page hotel a popular spot among travelers.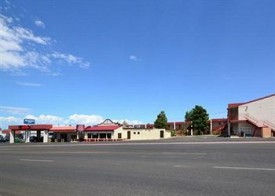 Like many other Rodeway Inns, this property offers a sprawling lobby with access to a plethora of area maps and a complimentary beverage station. About half of the rooms at the Rodeway Inn Page feature patios or balconies overlooking the outdoor pool. Most rooms come with basic, modern conveniences such as microwaves, coffee makers, hair dryers and small refrigerators. Complimentary parking is provided and within a short distance of your room.
Please be aware, this property is not pet-friendly, so if you are traveling with your fur babies, it's best to look for lodging elsewhere.
Amenities
Onsite restaurant
Outdoor swimming pool (available only during warm months)
Playground
Picnic area
Bus parking
Free continental breakfast
Microwave
Refrigerator
Pillow top mattress
Free high speed internet
Cable/satellite television
The Down Low/411
The property is a bit dated and could use a little overhauling, particularly with the carpeting and in the bathrooms. Overall, however, this property gets high marks from recent visitors for the friendly staff (the managers, especially) that is helpful and seems to go out of their way to provide guests with a pleasurable stay. For those traveling on business, be sure to bring your own computer. The hotel offers a "computer station" but it is a public-access computer located in the noisy lobby.
Obviously, with a name like Rodeway Inn, this property will be listed among the more affordable in the area, but it should be mentioned many guests felt they got a lot of value for the money they spent (and didn't spend) here.
As with any hotel/motel property in Page, be sure to book early, especially if you are staying in the peak season.
Who is it good for?
Singles, groups, families and those traveling on business will benefit from staying at this hotel. It covers the basic amenities and modern conveniences you would accept from a national hotel/motel chain but does so with affordability and friendly service in mind.