For those traveling on a tight budget (or simply not wishing to dump a lot of money into a frivolous hotel room), the Super 8 Gateway Page-Lake Powell is an excellent choice. Located in Page, a short drive away from Lake Powell, guests will find decent rooms and excellent rates.
This is a fairly large property, boasting 101 guest rooms. Its parking lot is equipped to handle a fair number of boats, as well. An outdoor pool is available to guests year-round and is heated during the winter months. A free, continental breakfast is available to all guests and each room comes with free, wireless internet and either queen or king sized beds with 25" T.V's.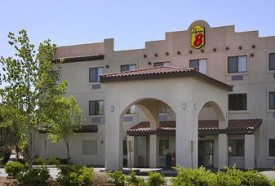 AAA and AARP discounts are available to guests year round. While there is not a restaurant onsite, a 24-hour Denny's restaurant is a short distance away. Previous guests have stated this is a "you get what you pay for" property, but if you aren't planning on staying in your room much longer than for sleeping, you can save a lot of money staying at this lower-priced motel.
Amenities
Free, wireless internet access
25" television sets in every room
Fitness room
Coin-operated laundry, available 24 hours
Ice machine
Vending machine
Wake up calls
The Down Low/411
Obviously, we're talking Super 8 motels here and not the Ritz, so expect the bare-minimum as far as amenities and conveniences go. Some guests have complained the wireless internet system the motel uses cuts out frequently, leaving guests to continually sign into the internet.
This property is a little dated and could use a remodel. At best, this hotel is a representation of what you've come to expect from the Super 8 Motel brand and is capable of providing a safe, fairly decent (and affordable) place to bed down for a night or two.
Who is it good for?
Across the board, most often its families and seniors looking to save money on their traveling expenses and both demographics will do well at the Super 8 Gateway Page-Lake Powell. Often, families need to make a quick trip to the store for medicine or snacks for the kids and staying on this property makes that errand convenient as it is located near a Wal-Mart and Basha's grocery store shopping plaza. Seniors will like that they can walk to a 27-hole golf course across the street.