The Holiday Inn Express at Grand Canyon Village South sits about a mile away from the entrance of the South Rim. This hotel offers visitors a clean and basic stay close to the Canyon. Cable television and movie channels are standard as well as local phone calls, in-room coffee, hair dryers and air conditioning. The rooms are comfortable and basic but have all the standard features one might find comparable to any other Holiday Inn Express. Kids' suites are available for those travelling with children and a complimentary breakfast is included in the price of the room.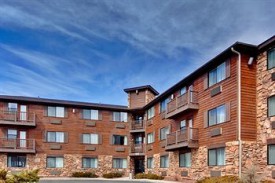 Guests staying at the Holiday Inn Express at Grand Canyon Village qualify for discounts at local attractions. The staff is also available to recommend and book helicopter and jeep tours as well as horseback riding.
On-site dining is not available, but a variety of restaurants are accessible within walking distance.
Amenities
Learning what's not available or considered "standard" at other area hotels, can make the basics sound luxurious and in this case, the Holiday Inn Express at Grand Canyon Village fills the void well.
Breakfast
Pool
Wireless Internet
Business services such as a fax machine are available.
In-room hair dryers and coffee.
Temperature control
Cable TV
Local phone calls.
The Down Low/411
The words "clean" and "basic" come to mind when reviewing this hotel, which works perfectly well for a lot of folks planning on spending most of their time outside exploring. It's a perfectly acceptable and even desirable place to lay your head after a long day's hike.
The biggest advantage to the Holiday Inn Express is its proximity to the Grand Canyon while still providing a modern place to stay. All in all, this is a serviceable, nice place to stay.
Who is it good for?
Groups of any size will do well here. Families, in particular, like this facility both for its affordability factor as well as the availability of kids' suites. Some of the suites, in fact, come with bunk beds and a TV, which go over particularly well with the older kids.