A heated outdoor pool, on-site laundry facilities and coffee en-suite are just a few of the modern amenities Red Feather Lodge offers its guests. Located just a mile away from the entrance of the park, this family owned hotel has all the comforts of modern living at the doorstep of your big nature get-away. Like the Maswik, Red Feather offers guests a choice in accommodations – motel or hotel style rooms. By in large, hotel guests seem happier than those bedding down in the motel, but managing your own expectations upon booking is key to a pleasant stay. Smoking rooms are available in the motel section only and room sizes vary and prices fluctuate according to season and availability. Book early to ensure a spot, especially if you are traveling at peak times of the year.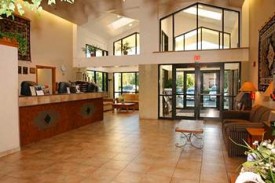 For and extra fee, pet-friendly rooms are available, but in the motel room section only.
While Tusyan boasts a variety of restaurants, all within walking distance of Red Feather, their on-site restaurant, Plaza Bonita serves up both Mexican and American cuisine in addition to a buffet during breakfast and dinner.
Amenities (may vary depending on what type of room you choose)
Red Feather offers both hotel and motel style rooms with the hotel rooms among several stories and inside, with hallway access to the rooms. This is the part of Red Feather that has been most recently renovated and has more modern décor. Motel style rooms mean all of the doors face the parking lot and are on the outside of the building. This is the original building and has two stories with an outside entrance to each room. Various tours of the Canyon, including park passes, can be booked and purchased right at the hotel.
Heated outdoor pool and spa
Free WiFi
Guest parking
On-site restaurant
On-site laundry facilities
ATM
Handicap access
Complimentary coffee and tea offered 24 hours a day in the lobby
Express check in and check out
Clock radio
The Down Low/411
If modern amenities like high speed internet and an easily accessible cup of Joe, are important to you, then stay in the hotel section of Red Feather Lodge.
Who is it good for?
At Red Feather, the best value to be had is for those traveling with others. Booking a single king room on your own can be a little pricey but certainly worth it for the proximity to the park. For those with any physical limitations, Red Feather does an excellent job making appropriate accommodations.