The newest hotel in Tusayan, The Grand Hotel is modern and welcomming and just one mile away from the entrance of the Park. Built in 1998, The Grand Hotel was designed to resemble a three-story chalet and certainly stands out among the other area hotels.
Walking into the spacious lobby seems to instantly transport you to a mountain lodge. The flagstone fireplace warms guests on chilly fall and winter evenings. Guest can often be found gathering around the grand piano while a guest may take a turn tickling the ivories.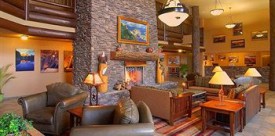 With Starbucks in the lobby and a pool, spa and fitness room within steps of your room, one does not miss many of the creature comforts here. Laundry facilities mean you can pack light without having to stay dirty.
The Grand Hotel also offers a gift shop stocking a decent inventory of Camelbak accessories and various outdoor gear as well as Native American jewelry and art.
An onsite restaurant, The Canyon Star Restaurant and Saloon, bring a historic Western feel to its patrons while serving up hearty helpings of barbeque, steaks and other southwestern fare. The saloon transports guests even further West with stools that were made from the saddles of the mule runners that used to work in the region many years ago. Entertainment is offered nightly and often features Native American dancers, folk singers and cowboys.
With a spacious, 700 foot conference room available to rent, The Grand Hotel hosts conferences, business meetings, retreats, weddings and other events.
Amenities
Air conditioning
In-room coffee makers
Pillowtop mattresses
Guest rooms come equipped with cable television, including premium channels.
Bathrooms feature shower/tub combinations, hair dryers and complimentary toiletries.
Spa
Indoor pool
On-site fitness center
Restaurant open for breakfast, lunch and dinner
The Down Low/The 411
Reputed to be the best of the hotels in the area (there is nothing higher than the average 3-star hotel offered in the vicinity), The Grand Hotel delivers what it advertises. Complaints of chlorine wafting down the hallway seem to be the only real downside, but most get what they expect here.
Who is it good for?
This hotel is best suited to those who desire a little extra comfort. It is a smoke-free facility, so if you or members of your travelling party are smokers, you may want to look elsewhere.