Colorado River – Species
The Grand Canyon is paramount for its spectacular views and wildlife viewing opportunities. In fact, the park itself contains several major ecosystems, adding to the diverse plant and wildlife going on each day.
In and along the Colorado River, visitors are treated to pristine landscapes and interesting mammals, fish, reptiles and amphibians.
Mammals
The largest mammal to make the Colorado River its home is the beaver. Unlike other river systems, beaver cannot build their dams on the Colorado due to its forceful flow. Instead, they build dens along the river's banks. Though extremely rare to find, the muskrat may be found building dens and along the river's shorelines. River otters, which used to make the river its habitat, are now thought to have left the park completely. Larger mammals frequenting the river corridor are mule deer and bighorn sheep.
Fish
While a number of its native species were wiped out with the cooling water, the Colorado boasts a number of fish that make its chilly waters their home. These fish include smallmouth and largemouth bass, catfish, crappies and bluegill and rainbow trout. Native species that were able to adapt to the cooling waters include minnows, speckled dace, flannelmouth and bluehead suckers.
Reptiles and Amphibians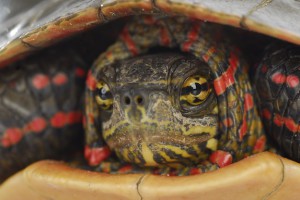 According to the National Park Service, there are approximately 47 reptile species making the Grand Canyon their home. Snakes are prevalent along the river corridor, as they feed on lizards and small mammals.
One of the more interesting reptiles found in the Colorado River is the western painted turtle. These turtles prefer living at the bottom of the Colorado and sport an orange and red shell and yellow lines along their legs. Amphibians include tree frogs, the Arizona tiger salamander, the red spotted toad, the Rocky Mountain toad.
Native Fish – An Historical Perspective
Until the completion of the Glen Canyon Dam along the Arizona/Utah border of the Grand Canyon, the Colorado River was home to a plethora of native species. As part of their evolutionary process, these fish had adapted to the sediment flow and the rising and falling temperatures of the water. After the dam was constructed in 1963, and the water was so dramatically altered, the native fish suffered. Instead of the sluggish sediment and warm water, the Colorado became significantly colder and its waters flowed clear. In an effort to boost the fish population, a number of non-native species were introduced including the rainbow trout, channel catfish and black bullhead.
Did You Know? The best time to fish for trout within the park is the fall and winter. Don't forget to bring your current state fishing license, a requirement to fish the waters of the Grand Canyon.