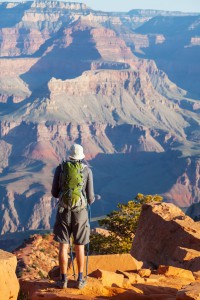 This company prides itself on providing a pampered and educational experience to its patrons. Travel to the Grand Canyon in air-conditioned comfort with expert guides and receive informative tours from naturalists while hiking, rafting, or riding through the canyon.
Reviews indicate a reliably good experience and a willingness to accommodate patrons. Tourists extol the virtues of the guides and the level of customer service. On the downside, there may be some trouble getting a break for a disappointing tour so read the fine print and know what you've paid for.
Most popular tours
Full-Day Canyon Scenic Rim Tour: Includes air-conditioned ride to sites in small groups and no wait times for entry. Expert naturalists host your tour to Indian cliff dwellings and fossil beds and point out interests through high powered telescopes.
Full-Day Grand Canyon Adventure Hikes: Choose from four hikes to explore the inner reaches of the canyon. Hike levels vary from mild to extreme, so choose wisely.