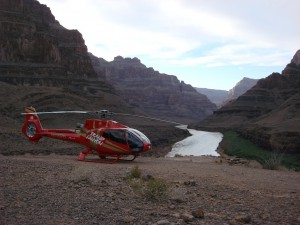 This is a focused company offering exactly what it says it does, helicopter rides over the Grand Canyon. For those who just can't live without an air view of the canyon, the shortest tour, only 30 minutes long, fits into most budgets. But if you're looking for luxury, they are not to be outdone. Offerings also include a landing tour with the ever-popular champagne picnic and hotel pick-up and drop-off.
Helicopters have a 180-degree view and for the green-minded, are eco-friendly. Most people seem happy with the service but when mistakes occur, you may find yourself needing to press your point in order to rectify the issue.
Most popular tours
King of Canyon Landing Tour with Vegas Strip: Includes views of the Hoover Dam and Lake Mead and a champagne picnic 4,000 feet down.
The Grand Kingdom: Includes an affordable 50 minute flight over and through the canyon leaving from the South Rim.
Ace of Adventures Air Tour with Strip: A spectacular Grand Canyon tour also includes the Hoover Dam, Lake Mead, the amazing Grand Wash Cliffs, and more as you travel towards the Canyon. Upon your return to Las Vegas you will fly over the Strip with it's complex and colorful structures.