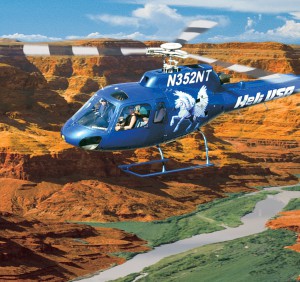 If you want to see the Grand Canyon in a helicopter, Heli USA is basically a "you want it, we got it" one stop shop. Flying is, of course, part of each tour but add ons include horse-back riding, river rafting, a special evening at Grand Canyon Ranch and ground tours. Prices are within the standard range and varying tour lengths allow you to tailor your visit to your schedule.
When you get what you paid for and know what to expect, this tour gets some nice reviews. But communication issues, overbooking and delays seem to be consistent problems. The good news is, corporate seems to be on top of it and you will get a response to your complaint.
Most popular tours
Grand Canyon to the Edge and Beyond: Starts with a narrated round trip tour by luxury coach. Take off from a private Helipad to see spectacular Grand Canyon scenery. You're then dropped off at the Grand Canyon Ranch for an evening of fine dining and entertainment and picked back up for your trip back to the city.
Grand Canyon Helicopter & Ranch Adventure: Includes a flight over and into the Grand Canyon where you'll be dropped off at Grand Canyon Ranch and taken to the main house in a horse-drawn carriage. Lunch includes Cowboy entertainment after which you take a Buffalo safari on horseback.
Chariot of Fire Helicopter Tour and Grand Canyon Voyage: Includes an extended helicopter ride 1500 feet below the rim of the canyon. See on of a kind panoramic views of Lake Mead, Silver Mine and Iceberg Canyon.