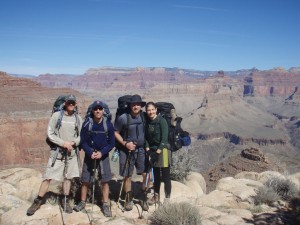 Just Roughin' It offers hiking and rafting tours for the expert and novice alike. Day hikes or rim-to-rim backpacking is available through this outfit that prides itself on providing unique tours of "the road less traveled", ensuring you can be alone with nature away from crowded tourist hot spots or see them as you like. Round trip service from Phoenix and Flagstaff is available along with several popular add-ons.
Reviews are scarce but those found tout the humor and knowledge of the guides and the passion for the canyon that bleeds through.
Most popular tours
Rim to Rim: Includes overnight backpacking tour from the South to the North Rim of the Grand Canyon. This hike is seasonally restricted due to weather so book early.
South Bass: Includes 16-mile day hike of some of the most secluded Grand Canyon trails.
Hermit Trail: Includes exploration of a trail created in 1911 by the Santa Fe Railroad providing access to the Colorado River for tourists. Day or overnight hikes available.