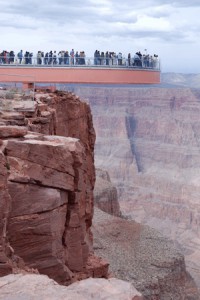 If it's authenticity you want, maybe a tour guided by the Hualapai tribe might tickle your fancy. Grand Canyon West offers tours of the Eagle Point reservation, nature hikes, performances by different Native American tribes and time on the Hualapai ranch. Add ons include river rafting, helicopter tours, horseback rides, overnights at the ranch and more. The initial tour fee is more than reasonable but if you want to load up with added activities, you might want to check your budget first and choose carefully.
Those who have done their work ahead of time and know what they're getting into report excellent experiences and friendly encounters. There are others who seem not to have read about the common fees that apply not only to this tour, but to all tours, in particular for the Skywalk. So be prepared and know what is included in your package.
Most popular tours
Legacy Tours : Includes access to Eagle Point, a hiking tour of Guano Point and time at the Hualapai Ranch. Three pricing levels relating to the size of your party. Any number of add ons available for additional fees.
Hualapai River Runners: Begin to explore the Grand Canyon walls over the white water rapids of the Colorado River. Hike up to Travertine Falls, a natural waterfall, with your guide. Hear about the history and culture of the Hualapai people.