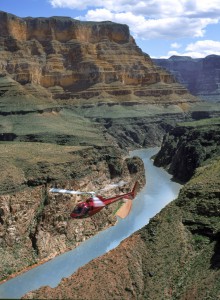 A focused tour company, Sundance offers a range of tours over and in the Grand Canyon, although all do include the requisite helicopter ride. Leaning more toward the luxury market, tours include combinations of fly time, hiking, and a pontoon boat float down the Colorado. Limousine pick-up and drop-off mean you ride in style or take their tour bus and save a little on the way.
Memorable trips with once-in-a-lifetime experiences are mostly what people talk about when reviewing Sundance and little extras that make the difference sometimes. On the down side, some report shortened time at the West Rim and less than enthusiastic support staff.
Most popular tours
Grand Canyon Voyager Exlcusive: This is the deluxe package. Includes round trip flight from Las Vegas, picnic 4,000 feet down in the canyon, a pontoon ride and four hours to explore the attractions on the West Rim.
Grand Canyon Sunset Tours: Includes a round trip flight from Las Vegas over the Hoover Dam and Lake Mead, the requisite champagne picnic in the canyon and a flight over the lights of the Vegas strip on the way home.
Grand Canyon Helicopter Picnic : This luxury tour includes round-trip hotel pick up and drop-off by luxury stretch limousine. Spectacular views of the Hoover Dam, Grand Canyon and more on this helicopter tour! Includes landing inside the Grand Canyon with a complimentary champagne picnic lunch.