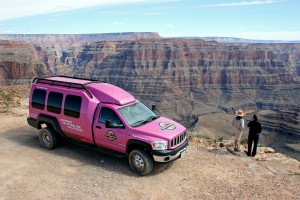 Have the hankering for the off-road road-trip of a lifetime to the Grand Canyon but don't know where to go? Pink Jeep Tours let's you ride in Barbie pink, open air, rag-top style to secluded, unique portions of the canyon away from crowded tourist hotspots. Of course, some of the tradition perks you won't want to miss, so you can add on the popular helicopter or rafting tour as extras in a combo tour package. Bring your hiking shoes as there are opportunities to get out and explore along the way.
Those who take one of the more "adventuresome" tours seem pleased with the experience. People talk about knowledgeable and friendly staff and on-time departures. But a few are disappointed to learn their tour didn't include the wilder off-road experience they were looking for, so be sure to get clarity on just what to expect when you book so you won't be disappointed.
Most popular tours
Grand Canyon Toroweap: Includes a jeep tour to Toroweap, one of the more secluded and exclusive areas of the canyon not accessible to all. You'll have unobstructed views, time in Mesquite and driving through prairie land with stops at Virgin River Gorge and St. George, Utah.
West Rim Drive, Fly and Float: Includes a jeep tour to secluded and unique Grand Canyon spots as well as a dramatic helicopter ride to the bottom and a float down the Colorado River.
Grand Canyon West Rim Classic: Includes a drive through the Mojave Desert and past the Hoover Dam and Lake Mead, the Joshua Forest and Dolan Springs to reach the Grand Canyon's beautiful West Rim.