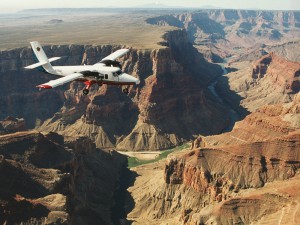 In business since 1927, Grand Canyon Airlines is the Granddaddy of all air tours. The first in business, they're the most experienced tour company around. With tours leaving from Las Vegas, NV, Page, AZ and Grand Canyon, AZ this company is more affordable than the luxury groups offering flights for the common man and packages for the big spender alike.
As you might expect from the most experienced, Grand Canyon Airlines receives accolades for organization and punctuality. Reviews indicate positive experiences, although those searching for the luxury tour may need to look further.
Most popular tours
Seasonal Grand Canyon Raft Tour: Includes a flight over the canyon, 15 miles of float time on the Colorado River, a jeep tour in the canyon and a coach ride back out to the rim.
Grand Voyager Expedition: Includes a flight over the canyon in a fixed wing AND a helicopter ride down into the canyon to a landing site, a ride down the Colorado River and a coach ride out of the canyon to sites and attractions. Light meal included.
Lake Powell Rainbow Bridge Air Tour: Includes a 30 minute flight over one of the most beautiful Grand Canyon attractions.