Rim Trail:
The South Rim's popular and aptly named Rim Trail leads from Grand Canyon Village to Hermit's Rest, a long but easy trail offering beautiful views and the most accessible walking. Parts of the trail are paved and although there are limited areas to fill up on water in certain areas, there is shuttle bus access that can help tailor your walk to drop you and the section you most desire to see.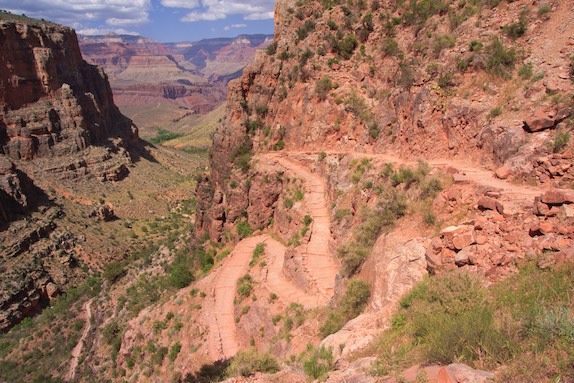 Bright Angel Trail:
Many who come to the Grand Canyon have the goal of hiking to the bottom. If you're going to do that, you're most likely going to take Bright Angel Trail. Steps from the door of the popular and aptly named Bright Angel Lodge, the trailhead is easily accessible to anyone visiting the South Rim. Although the most popular hike and most traversed trail, it is considered a strenuous and should not be attempted in one day. Plan carefully and bring plenty of water and snacks. While you can refill your canteen at two different resting points, 1.5 or 3 Mile Resthouses and also about half way down at Indian Garden Campground, this hike covers 15.6 miles round trip and 4,285 feet of elevation. That's a pretty dramatic climb! Along the way you'll pass through Vishnu Schist and walk through the twists and turns of Devil's Corkscrew finally reaching Phantom Ranch at the bottom and the Colorado River.
South Kaibob Trail:
If your goal is the Colorado and you want an unobstructed view on the way down, South Kaibob Trail is the way to go. Built along open ridgelines, this trail offers more non-stop sightseeing and jaw dropping lookouts than most others. A straight shot down the canyon, it is still a strenuous hike, however. If you plan to go all the way, plan for a couple of days to get in and out and pack your backpack accordingly with plenty of water and restorative foods. But if you're just looking for a day hike, this trail has a few stunning lookouts within reach, the closest being Ooh Ahh Point. You can guess how it got its name. South Kaibob Trail ends in the same place Bright Angel Does, at Phantom Ranch and the mighty Colorado.
Hermit Trail:
A bit more of an adventure due to its lack of dedicated maintenance, if you're looking for some solitude, Hermit Trail is a less traveled way tot he bottom of the canyon. Accessible by car or shuttle, the trailhead begins at Hermit's Rest just off Hermit's Road and winds its way steeply down to and exciting part of the Colorado River, Hermit Rapid. Hermit Creek Campsite and Hermit Rapid offer camping grounds where overnighters can unload and rest up for the long hike back in the morning. Again, this is a strenuous hike. Plan accordingly and remember to pack plenty of water and food. Keep an eye on weather reports so as not to be taken by surprise by the heat, cold, rain or snow.
Grandview Trail:
For a sense of what the old miners felt, Grandview Trail offers hikes past several abandoned copper mines. While this trail does not descend all the way to the Colorado River, it does offer stunning views all the way. The beginning of the trail is easy enough for less experienced hikers, but if you plan to go all the way, know the climb is considered strenuous and plan accordingly. There are no places to refill water on this trail either, so be sure to bring enough along. Horseshoe Mesa, where the trail ends, has a campground for overnight hikers. It also offers a stunner of a view at its eastern point. It should go without saying, but do not under any circumstances enter the abandoned mines. They are unmonitored, unmantained and dangerous.
Tonto Trail:
Although you do have to hike down to get to it, Tonto Trail is one of the few trails running east to west rather than south to north and remains at a relatively constant elevation. It intersects Bright Angel Trail, South Kaibob Trail and Grandview Trail along the way offering you the chance to change course at different points during your backcountry experience. Use caution if you hop on at Grandview. There are almost no public facilities or public water sources for a long way. Consult a map and know what you're in for to avoid the dangerous situation of dehydration far from help.