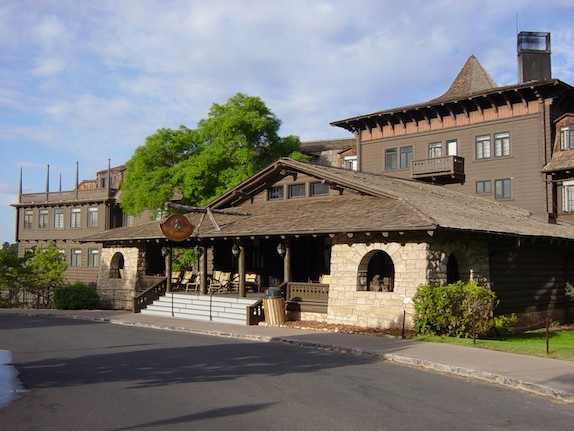 El Tovar: First billed as a luxury hotel to accommodate passengers of the Santa Fe Railway, El Tovar combined the use of both rustic and Victorian architectural styles to suit both the landscape and the desires of its patrons. Opening in 1905, El Tovar was built by an architect selected by the railway as the man most able to create the desired aesthetic, Charles Whittlesey. Although beyond its years in use as a luxury hotel, El Tovar still stands with beauty and grace at the edge of the South Rim affording visitors a beautiful view inside and out.
Hopi House: One of the great buildings of Grand Canyon architect, Mary Coulter, Hopi House was designed as a place for the Hopi Indians to create and sell their works to Grand Canyon tourists. Coulter designed the stone masonry style building with both the place and the people in mind creating a structure both functional as a museum/sales space and true to the pueblo style used by the Native American tribe.
Verkamp's Curios: Now known as the Verkamp Visitor's Center, this historic building was originally built, owned and operated by John Verkamp, a rancher from Flagstaff who saw the potential for a gift shop at the South Rim of the Grand Canyon. Opening in 1905, the store housed Native American arts and crafts, books and a few curiosities, like a meteor, which helped to draw tourists from the railway sponsored stores. Run by the family for over 100 years, it was sold in 2008 to the National Parks Service and now serves as a visitor's center.
Bright Angel Lodge: Another design of Mary Coulter's, Bright Angel Lodge was built to accommodate the growing number of tourists requiring updated lodging. Instead of another luxury building, however, this one was meant to serve families of moderate income making the Grand Canyon a vacation spot for the everyman without requiring he also be a camper. Again, very much in keeping with its surroundings, Bright Angel is constructed of logs and stone and features a gorgeous fireplace in the lobby built of stone taken from the canyon and reassembled in the same layering as is found in the Grand Canyon's geologic stratification.
Lookout Studio: Lookout Studio was built in 1914 by Mary Coulter as an observation spot for tourists. In keeping with her desire to maintain authenticity and stay true to the landscape, Coulter designed the building to appear as if it's built into the rock around it. Several stories high, Lookout Studio has more windows than typically found in Coulter's other works affording outstanding views from all floors and providing plenty of light indoors. Today the studio is used as a mineral and rock shop, but it is easy to see in the design it's originally intended purpose.
Kolb Studio: The Kolb brothers set out to create a business in Grand Canyon photography and built the studio to house their operation and gallery of works. The building was originally completed in 1904 but has gone through several additions and renovations since. It sits on the edge of the rim and provided a perfect outlook for the brother's main source of income, photographing the mule riders as they descended into the canyon. Tourists would later purchase pictures as a memory of their Grand Canyon adventure. Today the studio serves as an art gallery with rotating exhibits.
Red Horse Station: Moved from its original location, Red Horse Station is now a part of Bright Angel Lodge. Built in 1890 as a stagecoach station, it's gone through many machinations to become what it is today. After it outlived its use as a stagecoach stop, Red Horse Station served as a post office from the turn of the last century until the 30's and a hotel after that. Saved from demolition by Mary Coulter, it was moved to Grand Canyon Village, restored and converted to a single story cabin to become Bright Angel Lodge where it is found today.
Other South Rim Historical Buildings:
Hermit's Rest: Finished in 1914, this is another footprint made by Mary Coulter's in Grand Canyon architecture. Hermit's Rest, originally a rest stop for a stage line that ran from El Tovar to the westernmost point on the South Rim, now functions as a gift shop and refreshment stand. It differs in appearance than her other structures. Meaning to appear built by an untrained frontiersman, it's essentially a stone building structured into a mound of earth a few feet back from the rim. The appearance is rough and haphazard on purpose and she again used materials found in the canyon for it's building keeping it in harmony with the space surrounding it.
Indian Watchtower: The last of Coulter's buildings, Indian Watchtower stands at the opposite end of the South Rim at its easternmost point. Two circular buildings connected by gentle arches, the Kiva room is filled with observation windows overlooking the canyon. Not even the fireplace blocks the view. In the tower building, each level offers a gallery of Native American artwork. The top floor is the only one void of decoration as Coulter felt the view shouldn't be detracted from in any way.