The North Rim of the Grand Canyon offers a completely different experience than the South. Far less populated with tourists and harder to get to, you won't find many of the typical offerings here. If it's air tours, restaurants and hotel lodgings you're looking for, you've come to the wrong place. It's a commitment as the road in is long and isolated, but if it's solitude, beauty and nature you seek, well the North Rim is worth the extra time it takes to get there.
There is only one road leading to the North Rim, AZ 67, and only one lodge, Grand Canyon Lodge, a rustic and historic hotel built by the first National Park Service director in 1928. The closest major airport is in Las Vegas almost 300 miles away, so be prepared to spend time getting there. But your efforts won't go unrewarded. The North Rim offers some of the most spectacular views most Grand Canyon visitors never get the chance to see.
Sitting 1,000 feet higher than the South Rim, the North Rim's aesthetic is 180 degrees different from the South. Rather than sparse rock and scrub, you enter an evergreen, alpine forest. The landscape is lush and moist rather than arid and the average temperatures are cooler than you might anticipate. With no gift shops or amenities to speak of, the North Rim's draw is simply its unique beauty and the chance to quietly experience all the natural wonder the Grand Canyon has to offer.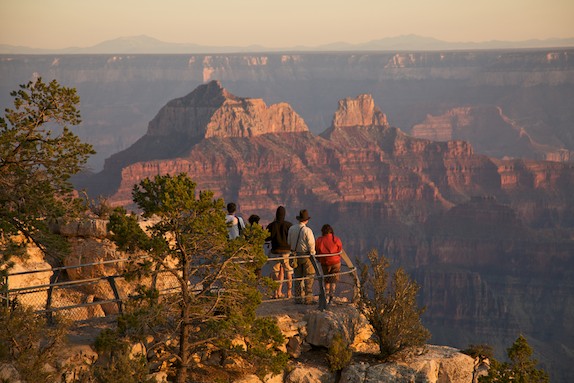 Bright Angel Point: The most visited viewpoint on the North Rim, Bright Angel Point is a paved walk from the Grand Canyon Lodge. Don't be fooled, though; although paved, the walkway is steep in places and more strenuous than often anticipated. Several well-known landmarks can be seen from Bright Angel Point including several of the temples, Deva, Manu, Brahma and Zoroaster. Bright Angel Trail directly across and leading up to the South Rim is visible as is Walhalla Plateau.
Widforss Point: This viewpoint offers stunning views of the eastern Grand Canyon. Haunted and Phantom Canyons are visible from here as are Manu and Buddha Temples.
Uncle Jim Point: Named for a reserve warden who is best known for killing over 500 mountain lions, Uncle Jim Point is at the bottom end of a 5 mile loop trail found near the North Kaibab Trail parking lot. It's views of Bright Angel Point, Walhalla Plateau and Roaring Spring Canyon are what bring hikers here. The trail in and out is well used and because it's not too difficult, it can be incorporated as an easy day hike that rewards walkers with beautiful vistas at it's end.
Honan Point: Honan Point offers a long, sweeping, panoramic view of the Grand Canyon from Walhalla Plateau to Howland's Butte. Thor Temple, Clear Creek, Ottoman Amphitheater, and Deva, Brahma and Zoroaster Temples are all among the famous landmarks seen taken in as you sweep your gaze across the canyon.
Cape Royal: The most encompassing view from the North Rim can be found at Cape Royal Point. 270 degrees of canyon east, west and south splay out on all sides making this a worthwhile venture for the Grand Canyon tourist. It's distance from Grand Canyon Lodge and the North Rim Visitor's Center means it's a commitment, and there's a trail to hike before you reach your destination, but few who take the opportunity to view the canyon from here regret it. You'll see Angel's Widow, a natural arch, along the trail to the point, and beautiful buttes once you arrive including Wotan and Freya's.
Cape Final: Easily accessed from a short, two-mile walk, Cape Final Point is maybe the best viewpoint on the North rim. Sweeping, unobstructed views of vast portions of the canyon make up this vista, the colorful and dramatic Desert Facade and Palisades of the Desert enhancing the effect with sheer, colorful and unbroken walls stretching for miles and miles.
Naji Point: From here, Lava Creek is in beautiful view to the east and highlighted by Poston and Huble Buttes. Hartman Natural Bridge can be seen at the northern end of Lava Creek, a land bridge hovering over a drainage route near the top of the Redwall limestone layer. There is a good view of the Colorado River Gorge and where it meets the Little Colorado Gorge is easily visible as well.
Atoko Point: At it's outer reaches, Desert View Tower can be seen from Atoko Point and a large expanse of desert beyond the Desert Facade cliffs. A big portion of the view is taken up by Kwagunt Valley, a winding gully stretching east. Vermillion Cliffs, as you might guess, add a swatch of brilliant red to this beautiful vista.
Roosevelt Point: A newly established viewpoint, Roosevelt Point was dedicated in 1990 to commemorate the president who first took steps to protect this land. Although the viewpoint has a partially obstructed view, the vista is still quite lovely and includes a beautiful look at the sloping hills of the Kwagunt Valley and Vermillion and Echo Cliffs.
Point Imperial: Dramatic and worth the visit, Point Imperial is the northernmost viewpoint at the Grand Canyon. Wide, sweeping views of everything the canyon has to offer are visible here as well as miles and miles of the Colorado River.