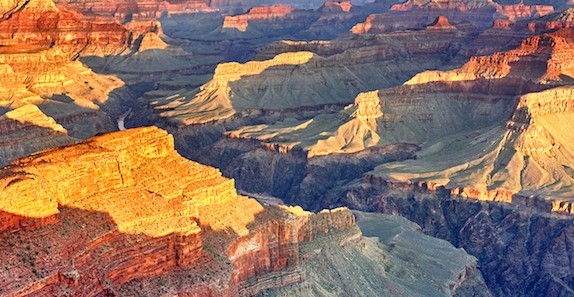 The Grand Canyon is wonderfully photogenic. Getting good photographs of the Canyon can be harder than you might imagine, however. It's the sheer magnitude of what you're seeing that is so hard to capture in a small frame. The air is so clear the vistas seem to stretch on for days and the enormity of the panoramic views challenges the limits of the best wide-angle lens to capture it.
Any camera can provide you with wonderful images and great memories but you will have the best success if you bring a camera that you know how to use well enabling you to control to the best of your ability light, composition, and contrast. Single-lens reflex cameras provide the greatest versatility for circumstances such as these but you must be very comfortable with all the features they provide to get good pictures. Simple point and shoot cameras can provide great images for most people and are best for those with limited photography experience. They are also best for hikers since they are light weight and do not need extra equipment such as spare lenses. If you are planning to be on, in or very near the river, it might be wise to get a waterproof housing for your camera or use a camera made for underwater use. Some underwater housings are incredibly simple such as a very water-tight bag, and these can make it easier to carry your camera when hiking, rafting or kayaking. Heat can be another concern when outside for long periods with a camera. Be certain that you have a pack or carrying case so that you can keep you camera out of the sun. Long periods of direct sunlight on any camera can cause problems.
The best light for showing off the three dimensionality of the Canyon occurs in the early morning and late afternoon when shadows are deepest. Often the Canyon walls show their colors much more dramatically in these lights. In fact, if you are taking video, photographing the sunrise or sunset as light changes on the Canyon walls can make for really dramatic footage.
Even with the right light and equipment it is likely that you will not be wholly satisfied with your panoramic or wide-angle images. That is why it may be best to concentrate more on close in shots. Capturing the details of rock formations, the beauty of flowers or the flowing river with pieces of the Canyon as dramatic backdrop will provide more satisfying images. It will also be important to provide scale in your pictures. A landscape image will really be enhanced if there is a person or object in the foreground that will give perspective and scale. While your subject may be fairly close to you, you can elect to take the picture from and angle that provides the most visual interest in the backdrop to the main subject. If you spend just a little time moving around to find the best vantage point from which to take you pictures you will be happier with your results.
Don't be shy about using your flash in the Canyon. Often shadows can be so deep that you lose some or all of your subject due to the sharp contrast in light levels. Fill flash is often used by professionals in these circumstances and you should consider doing the same to get the best and most even exposures.
It can be helpful to use filters if your camera is equipped to handle them. Polarizing filters will enhance the colors in your pictures and make the image very striking. These are the filters that produce images with deep blue skies setting off the colors of the Canyon walls to best effect.
If you are using a digital camera be certain you have enough memory for all of the images you will want to take. Carrying extra memory cards is recommended. If you are using film, a relatively fast film such as ISO 200 will give you good images in the variety of light condition you will encounter. Don't underestimate how many rolls of film you will use each time out in the Canyon. Nothing can be more frustrating than running out of film just when the light turns the most dramatic.
There are so many good places to shoot photographs from around the rims, on the trails and on the river but for panoramic shots probably the best spots for photos are Pima Point and Grandview on the South Rim.
One excellent way to enhance your photography skills and get some outstanding pictures of the Grand Canyon is to take a photography workshop with experts. Friends of Arizona Highways (http://www.friendsofazhighways.com/wor_photo.htmis) one group that offers several Grand Canyon photo workshops every year along with workshops in other Southwestern parks. You will not only learn more on how to make the most of your photography but you will meet others with whom you can share pictures expanding the images you bring home to share.