The Grand Canyon is referred to as one of the seven natural wonders of the world, and rightfully so. Grand Canyon National Park is a sight to see, at is 18 miles wide and 1 mile deep, with more than 277 miles of river running through it. And with all that terrain at your disposal, there are many different ways to discover the sights of the Grand Canyon, depending on your interests. Here are ten different ways to explore the Grand Canyon, recommended by us!
1. Helicopter tours. Enjoying the sights of the Grand Canyon on a helicopter ride is a great way to experience all the breathtaking views and true beauty of nature. Helicopter tours are a great option for exploring the Grand Canyon especially if you are in a time crunch but want to see all that Grand Canyon National Park has to offer. Papillon Grand Canyon Tours will pick you up and drop you off right at your hotel.
There are many options when it comes to helicopter rides around the canyon – from simple tours of the main sights to limousine pick up and a champagne lunch in the canyon. After your lunch you can even hike and raft down the Colorado River – and finish off the day with a sunset flight out of the canyon.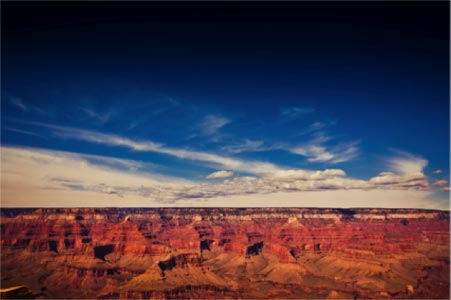 2. Camping. Camping overnight at the Grand Canyon is an exciting experience, but can be difficult. Some of the night hike and backpacking routes are the most challenging in North America. That being said, camping overnight will allow you to see the beauty of the inner canyon – and not everyone can say that!
For those people who are capable and skilled enough to make the trek to the inner trails, it will be a life changing experience. But if you are not equipped or able to camp in the Grand Canyon – don't fret! There are many other ways to explore the beautiful nature found at Grand Canyon National Park. And don't forget to get a permit if you plan on staying the night.
3. Day hiking. Hiking is a great way to get closer to the amazing sights and nature found at the Grand Canyon, though it is a difficult feat. Since the Grand Canyon is in the desert, you must be prepared for desert climate, where water is scarce and the weather is dry and hot. Grand Canyon National Park covers more than 1.2 million acres – though some areas are inaccessible because of cliffs and serve as a natural habitat for many plants and animals.
The most enjoyable seasons for hiking are spring and fall. You should plan your hike based on distance and skill level of all parties involved, as there are many treacherous trails that are not suited for the average hiker. If you want to get up close and personal with the Grand Canyon environment but are not advanced enough to camp overnight, day hiking is a great option.
4. Air tours. Another option for those with a small window of time to explore the Grand Canyon is an air tour. Air tours are less expensive than helicopter tours, but the sights are just as amazing! Small, lightweight planes take you through the canyon sites. If you can afford to splurge, you can even discover the Grand Canyon in a private plane, outfitted to seat up to 17 people. Plane tours are a magnificent way to end a company trip to Arizona – but also serve as a fantastic way to view the canyon with observations, history and nature along the ride!
5. Bus tours. If air travel or hiking aren't your thing, there are other options forGrand Canyon tours that may be more up your alley: bus tours. Bus tours get you "so-close-I-can-touch-it" to the amazing scenery and are very budget friendly. Bus tours leave from many different locations and will transport you and your group to hot canyon spots.
On bus tours every seat is a great one, and no one in your party will have to sacrifice seeing the sights in order to drive. Also, most bus tours allow for sightseeing stops along the ride, so you can capture the worthwhile views through your camera lens. Additionally, many bus tours offer package deals that include a rafting trip or helicopter ride!
6. Rafting. If you are more inclined to water adventures, rafting in the Grand Canyon is an alternative to hiking, flying or driving! Though the water can be rough, rafting through the Grand Canyon is surely an exciting way to explore. There are many guided tour options available to take you on an exhilarating river expedition throughout the Grand Canyon.
Since the extend of the Colorado River through the Grand Canyon is said to be one of the wildest stretches of whitewater in the United States, a rafting trip is something to be taken seriously. But the benefits of a rafting trip are aplenty – with side hikes and exploration being an option.
7. Visit the skywalk. The Grand Canyon Skywalk, made public in March 2007, allows Grand Canyon visitors to observe the amazing spectacle that is the Grand Canyon while walking peacefully on their own two feet. The Skywalk, open 365 days a year from sunup to sundown, has a glass bottom that allows visitors to feel the depth of the canyon beneath them.
There are three other points of interest at Grand Canyon West (where the Skywalk is located) that include Eagle Point, Guano Point and Hualapai Ranch. Since there is so much to see – you'll want to dedicate a good amount of time for exploring!
8. Mule ride. If hiking seems appealing to you but you don't want to commit to as much physical activity, you may want to consider taking a mule ride into the canyon. There are many different options when it comes to mule rides depending on how much you really want to explore the great Grand Canyon. Mule rides range from one hour to overnight and can bring you to different points of interest depending on what you would like to see and experience. For day trips, mule rides are reasonably priced and can be a family event, as children ages ten and older can participate.
9. Jeep tours. Jeep tours are a way for the whole family for to experience the Grand Canyon, but also allow you to see sights that are only accessible by dirt road. There are a variety of tours available, including from sunset tours to Indian paintings tours, so it all really depends on what you want to get out of the exploration! In addition to the awe-inspiring views, you may see some animals on your jeep tour, so don't forget your camera!
10. Drive. If you want to be cost-effective and don't mind being your own tour guide, driving around the Grand Canyon may be your best bet. There are many scenic routes that include pull-off spots to take in the views – some with great views of the Colorado River. Be sure to check your gas gauge frequently, as there are many stretches of road without any service stations.