The Quality Inn Williams fits in right along with its other two-star accommodation counterparts in Williams. Decent, fairly priced and clean, this is a completely satisfactory place to stay while experiencing the Grand Canyon.
With a parking lot accessible to buses and vans, along with a staff used to accommodating travel groups and folks with travel restrictions, this is an especially ideal place for travel groups. A business center on site along with a complimentary breakfast, swimming pool and cable television mean you aren't sacrificing too many every-day amenities and conveniences.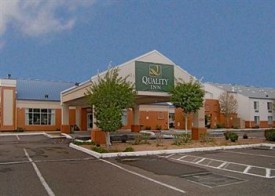 With windows offering a picturesque setting for your morning bagels, the breakfast room and the hotel's free breakfast is a pleasant way to start the day. The hotel states if offers a "full breakfast" but guests have stated there is nothing "hot" about it other than the coffee. Expect bagels, cereals and pastries to be offered here. Also, be aware, some guests have complained of long lines to get into the breakfast room during peak season so have a back-up plan just in case.
Amenities:
Business center featuring a copy and fax machine
Outdoor swimming pool
Spa
Complimentary breakfast
Daily complimentary newspapers in the lobby (Mon-Fri only)
Free high-speed Internet
Flat screen TV's
Air conditioning
Clock radio
Hair dryer
Coffee/tea maker
Iron and ironing board
The Scoop
Reviews are mixed, but knowing two things will help make yours a successful stay: it is 60 miles away from the Grand Canyon and you get what you pay for. The rooms are a little worn, but this is to be expected from a hotel that sees a fair amount of traffic.
Keep in mind this is a budget-friendly hotel, meaning you won't be getting any luxury soaps or linens. Rooms are basic but clean and you are only an hour drive from the Grand Canyon. This is also a smoke-free, non-pet friendly hotel.
This was previously a Fairfield Inn by Marriott.
Who is it good for?
As stated above, this hotel seems especially acceptable for those traveling in a group. The staff has had lots of practice handling the booking of large groups and, on the whole, works to accommodate the individual needs of guests. Handicap rooms are available upon request.
Because it is located so close to the Elk Ridge Ski Area, this is a popular lodging choice for ski and snow enthusiasts.