On the whole, the Econo Lodge Williams probably offers the least amount of amenities of any other lodging in Williams. Proximity to the Canyon and appealing to those who are budget-conscious, this property is a fairly decent place to stay, especially since it is only 60 miles away from the Grand Canyon. There is plenty to do and see in Williams, so if you are here for the sights, paying more for your room isn't truly necessary.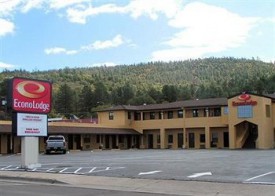 Located less than half a mile away from the Grand Canyon Railway Depot, it is just as easy to catch the train to the park as it is to stay at the actual Grand Canyon Railway Hotel – just fewer frills and niceties. It is also within walking distance of William's historic district, providing guests easy access to entertainment, shopping and art galleries.
The rooms seem to be a bit small. A complimentary breakfast of hot waffles and coffee is included in the price of the room as is free, high-speed Internet access, cable television and courtesy transportation. Non-smoking rooms and family units are also available.
Amenities:
Complimentary breakfast
Business traveler-friendly features such as free high-speed Internet and access to a fax machine.
Iron and ironing board
Cable/satellite TV
Free wireless high speed Internet
The Scoop
Reviews of the Econo Lodge Williams are mixed. Some report friendly staff and clean rooms while others complain of broken heating, frozen toilets and run-down accommodations. Overall, most would agree you get what you pay for here.
Who is it good for?
If you are the type of travel who prefers spending as much time embarking on adventures and the least amount of time spent inside a hotel room, this is an excellent option. This is also a great place for large groups as there is bus parking on-site.